14 hottest Football WAGS (Wives and girlfriends) 2021
Behind every footballer, there is a glamorous wife or
girlfriend. Today we take a look at some of the hottest wags in Football right
now. The list below is just random, so the numbering is not a measure of
hotness.
14. Melanie da Cruz
Melanie da Cruz is the wife of Manchester United forward Anthony Martial with whom she have a son.
Melanie is a former reality TV star, a social media influencer and a business woman thanks to her Shoe brand.


13. Ludivine Kadri (Bacary Sagna
Model who has been the face of brands like the leather
goods manufacturer Egeria and the womens wear label OMydress Paris. She
married French soccer star Bacary Sagna in
2010 with whom they have two sons.
12. Pilar Rubio (Sergio Ramos)
Pilar Rubio is
a Spanish reporter and TV presenter. She made her name covering events for
popular television network La Sexta.
Pilar won
the Best Television Presenter reporter award with Premio Joven in 2007.
Pilar
Rubio and Sergio ramos had been dating since 2012 prior to tying the knot in
2019.
11. Edurné
Garcia (David Degea)
Edurne
Garcia is a Spanish
singer, actress, and television presenter.She has been dating Manchester united
shot stopper, David Degea.
10.
Oriana Sabatini (Paulo Dybala)

Simply known as Oriana in the music business, the 22-year-old beauty is a pop singer, actress and model in Argentina, as well as Juventus star Paulo Dybala's girlfriend.
9. Melissa Sata (Kevin Prince
Boateng)
Stunning TV presenter
Melissa Satta
-Boateng is the wife of ex-FC Barcelona star
Kevin
–
Prince Boateng
8. Mazda Magui
(Mamadou Sakho)
Mazda
Magui is the wife of Crystal Palace Defender Mamadou Sakho.
7. Shakira
( Gerard Pique)
Shakira
is the most famous WAG on this list.
The
41-year-old musical superstar has been going steady with Barcelona and Spanish
star Gerard Pique since they worked on the music for her song Waka Waka for the World
Cup 2010 in South Africa.
The Hips Don't Lie Grammy
winner has two sons, Milan and Sasha, with Pique.
6. Rafaella Szabo (Axel Witsel's Wife)
Wife of midfielder Bosrussia Dortmund Midfielder, Axel Witsel. She and
Axel have daughters named Mai Li and Evy.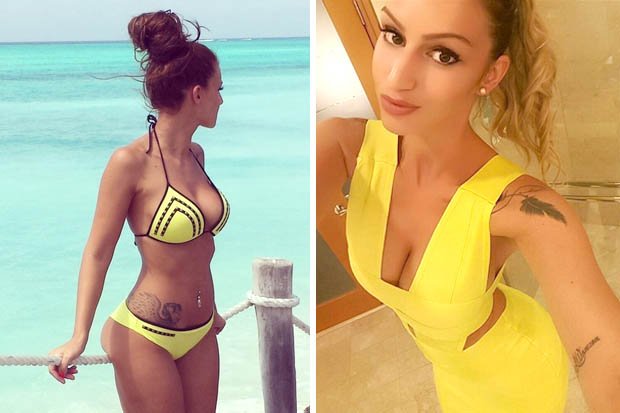 5. Leonita Lekaj ( Granit Xhaka's Wife)
4. Perrie Edwards(
Alex
Oxlade-
Chamberlain Girlfriend)
The pair reportedly started dating in November 2016, but
they didn't go public until early 2017. Ever since, Perrie and Alex have been
TOTALLY loved-up on social media.
Antonella Roccuzzo and Lionel Messi met when they were
just 13 years old and they tied the knot in July 2017.
Antonella
Roccuzzo initially trained to be a dentist at university, but she ultimately
switched to social communication.
In November
2016, she posted on Instagram stating that she had signed a modelling contract
with Argentine fashion label Ricky Sarkany.



Georgina Rodriguez is Cristiano Ronaldo's Girlfriend. They have been dating since 2016.
According to

AS

,
Rodriguez met the Portugal star at a Gucci store in Madrid, where she was working
as a shop assistant.
1.Alice Campello ( Alvaro Morata Wife)
Alice
Campello – a model, fashion blogger and influencer is the is the wife to
Atletico Madrid star, Alvaro Morata.